Blog
What Role Does Monitoring and Predictive Maintenance Play in Manufacturing?
In the manufacturing industry, equipment maintenance is integral to keeping your company running. If a piece of equipment fails, the downtime is expensive — both in equipment repair costs and lost production time. Depending on how much you produce in an average day, a single hour of downtime can cost you anywhere from $1,000 to $10,000 or more. Monitoring and predictive maintenance can help you keep everything moving smoothly. What role do these two tools play in manufacturing?
Predictive Maintenance vs. Preventive Maintenance
Before we get into predictive maintenance and monitoring, we do need to address a different form of maintenance — preventive. Preventive maintenance is merely the practice of fixing small problems before they become big ones. Changing the oil in your car according to the manufacturer's recommendations is preventive maintenance. You probably already have a schedule in place for preventive maintenance for each piece of equipment — replacing belts, changing oil or grease and inspecting each moving part for signs of wear and tear that could indicate the beginnings of more significant problems.
Predictive maintenance, especially when paired with monitoring, takes preventive maintenance to a whole new level.
What Is Predictive Maintenance?
You most likely already have a maintenance schedule in place for going over each piece of machinery on your production floor to help keep everything running. Each piece has its manufacturer-recommended maintenance schedule, and keeping up with that can prevent any unscheduled downtime. Sometimes, though, equipment fails. What if you could predict those failures and fix the problems before they take your production floor offline?
That's where predictive maintenance comes in.
A predictive maintenance algorithm examines your maintenance and repair history, using data you've collected over months or years. It's programmed to look for patterns human observers might miss. These patterns can indicate when a piece of equipment might fail outside its regular maintenance schedule. With enough information, these programs can even predict future failures.
Remote Equipment Monitoring
While predictive maintenance can help you predict equipment failures, these algorithms are only as good as the data they have to work with. That's where monitoring comes in.
Wi-Fi-enabled monitoring can help you keep track of the state of your equipment in real time. You can check any machine at any time from a computer or even from a smartphone. These sensors can also feed data directly into your predictive maintenance system, providing more accurate information than you can obtain by putting the info into the computer manually after regular repairs.
Benefits of Monitoring and Predictive Maintenance
Why should you consider investing in a monitoring and predictive maintenance system for your plant?
As we've already mentioned, downtime is costly. Any unexpected equipment failure could potentially cost you thousands of dollars while you wait for a repair. A predictive maintenance and monitoring system improves the reliability of your plant, keeping the machines available and making them safer for workers to use.
This kind of regular monitoring can also prevent or lessen regular downtime. You won't have to take machines offline to inspect them if they have onboard monitors, because someone is always able to watch them. You will still need to bring them offline for regular maintenance, but inspections no longer need to result in downtime.
Investing in this new hardware and software can also help prevent catastrophic failures, which could result in even more expensive repairs or even equipment replacement.
Keeping your equipment running smoothly and reducing downtime will improve your productivity and workplace efficiency.
Predictive maintenance and monitoring are two more tools you can slip into your manufacturing toolbelt to keep your process running smoothly. Instead of waiting for your equipment to fail, or spending a lot of time with it offline so you can inspect the machine, you can use monitors and software to predict problems before they cause the equipment to break down.
The goal here is to keep your machines online as long as possible. With this hardware and software installed, you don't have to shut down the equipment to keep a close eye on it. Installing predictive maintenance and monitoring systems can take some time and some getting used to, but it can save you thousands of dollars in repair and downtime.
Inventory Optimization in the Supply Chain
Every company wants to have the right amount of the right inventory in the right place at the right time, and that has been the primary focus of Material Requirements Planning (MRP) software and its successors and descendants including Enterprise Resource Planning (ERP), and Distribution Requirements Planning. Traditional planning systems use traditional logic that calculates a time-phased replenishment plan. But very few professionals have been totally satisfied with the MRP approach. While the MRP approach does develop a reasonable and logical plan that's far better than guesswork, min-max, or order point strategies, it is entirely dependent on the accuracy of the forecast and does not recognize or react to anything outside of the "normal" – like supply chain disruptions, delays in production or distribution, or changing costs, availability, or priorities.
Optimization (for a more general discussion of optimization see the previous blog, Why is Optimization Important for Supply Chain Planning? ) is designed to take those dynamic factors into consideration by comparing different strategies in order to determine a "best" approach among all the alternatives. The user sets the priority by defining what "best" means – lowest overall cost, best customer service, minimum transportation cost, staying within warehouse capacity limits – or more likely some combination of these. Lowest overall cost to maintain 95% service level without exceeding warehouse capacity anywhere in the network, for example.
The system will then try many, many different combinations of replenishment opens (quantity and timing), transportation choices (truck is faster but rail is cheaper), warehouse inventory strategies (it's more economical to store a larger quantity at a feeder warehouse serving more distribution points but transportation costs will likely be higher and customer service will suffer), and other trade-offs to find the best combination within whatever restrictions may exist – like warehouse size or container volume limits.
Understand, of course, that all these factors are changing constantly. Fuel and transportation costs are notoriously volatile as are taxes, duties, and capacity availability. Likewise, customer demand is always changing, often unpredictably, and there are those supply chain disruptions mentioned previously. The good news is that optimization routines can be rerun as often as you like. Even though you don't want to be changing strategies minute-by-minute, it's really useful to see the impact of any disturbance that takes place and be able to quickly identify and react to an issue that might affect customer service…and to know the best way to react.
Inventory optimization in the supply chain is focused on where to hold inventory in the distribution network to deliver the desired level of customer service at minimal cost within any limits or restrictions that exist. That may mean that some items are stored in larger quantities closer to the source and distributed in smaller quantities more often down the chain while others are more likely to be held closer to the customer for quick delivery. Optimization brings all those considerations together in a comprehensive plan that delivers the desired performance at minimal cost.
This post originally appeared on Navigate the Future, the Dassault Systemes North America blog
Continue the conversation by joining our DELMIA Communities on 3DSwYm. Membership is free.
The Value of Simulation for Collaborative Robots – Part 2
This is the second of a 2-part series on Cobotics simulation.
In a previous blog I introduced the concept of Cobotics, or the use of Collaborative Robots and described the benefits of cobotics work cell simulation which include:
Secure accessibility for both humans and robots
Secure human tasks using ergonomics validation
Human / robot interaction validation
Optimum production capacity
Human safety compliance
This article will introduce Virtual Commissioning and how it increases the value of Cobotics and more generally, the production work cell.
What is Virtual Commissioning?
First, some numbers:
75% of projects exceed the final budget
30% of projects are delayed, leading to additional cost and lost sales
60% of commissioning time is used to identify and eliminate problems with control software, protocols, and integration.
On the other hand, in a robot work cell:
1/3 of the time is dedicated to the component set-up and tool tuning (mechanical domain)
1/3 of the time is used by the robotics engineer to set-up the robot program and trajectory
1/3 of the time is used by the programmable logic controller (PLC) programmer to complete the global work cell availability
For security reasons, it is impossible to have these three teams physically working together in the cell. Consequently, because some companies split the day into three shifts to have engineers working consecutively, delays in work cell set-up are increasing.
Fortunately, there are solutions
Offline Programming – decreases the time needed to work physically in the work cell by programming  the robot trajectory in a robotics simulation software
Virtual Commissioning – a realistic and intelligent virtual run-time environment for Control Engineers to debug and validate PLC programs prior to physical build
How Co-Simulation for Virtual Commissioning is possible
The co-simulation environment is composed of two domains:
The work cell is designed in a 3D environment. Robots, machines, and humans are animated, and sensors are modeled and can simulate with maximum accuracy in terms of performance, reachability, and collision-detection based on the device program and input/output.
The definition PLC environment is able to emulate different PLCs available on the market or be connected with a real PLC (hardware in the loop)
Between these two domains, a dedicated fast speed connector is provided that allows real-time communication both ways – orders are sent from the PLC environment to the work cell device and simulation information is sent back from the work cell simulation (sensors information, robot program status, etc).
Thus, all 3D devices are directly controlled by the final PLC program and can realistically simulate the complete behavior of the work cell.
There many benefits of Virtual Commissioning
Reduce the risk of errors and damage during ramp-up
Improve the quality of delivered PLC code by validating all possible scenarios including non-nominal mode (on average, 80% of the code is dedicated to addressing non-nominal mode)
Simulate equipment failure (sensors) and validate the PLC code to address these type of events
Validate all safety monitoring scenarios
Reduce immobilization of the work cell and reduce debug time and costs at the customer site
The Value of Virtual Commissioning for Cobotics
Obviously, virtual commissioning can be used with the same value because human interface can be modeled and human interaction can be simulated.
Another value is to provide a virtual environment for workers to train in safe conditions and at full capability. It can also validate all scenarios including human error and device failures.
A New Perspective
Imagine putting yourself in the shoes of a worker working with a cobot!  What can be better than being able to:
Validate a process thanks to an immersive, human-like experience
Train for dedicated tasks
Be reassured in front of a cobot
Be convinced that this robot is, in fact, more than a robot and can become a partner
Coupled with simulation, this technology helps to provide a smooth transition by introducing robots in the virtual world.
Conclusion
To summarize, simulating a cobotics work cell provides:
A collaborative work cell layout design
Ergonomics in the same environment
Human safety validation
Production performance simulation
Offline programming, Virtual Commissioning
Worker training
An immersive experience
New collaborative equipment design
Simulation of collaborative robots develops your imagination and can accompany you to the next level – an industrial transformation process.
Continue the conversation by joining our DELMIA Communities on 3DSwYm. Membership is free.
Steel and Aluminium Tariffs Will Impact Manufacturing Well Into 2019
While we may have avoided a full-blown trade war, the tariffs on steel and aluminum are still in place, which makes it more difficult for companies that rely on these two metals to continue to work in the current economy. How will these tariffs continue to impact the manufacturing industry into the next fiscal year?
What Are These Tariffs?
These tariffs date back to 2017 when the current presidential administration announced that they were planning on restricting the import of certain materials from outside the United States. Most of the manufacturers in the states were against these new taxes because of the negative impact it would have on the manufacturing industry. Steel would be subjected to a 25 percent tariff, and aluminum would have its price raised by 10 percent.
Tariffs have been implemented at various times throughout history, so they aren't a new concept. However, these are the first of the Trump Administration.
Who's Affected and Who Isn't?
These tariffs wouldn't affect everyone, such as imports coming from Canada or Mexico because of their shared borders. In addition to Canada and Mexico, other countries that are exempt from the steel and aluminum tariffs include Australia, South Korea, the European Union (EU) and Argentina.
The exact effects of these tariffs remain to be seen, but for example, if the exemption is not renewed for the European Union, the impacts could be far-reaching. Steel manufacturers in the European Union would likely have to change their manufacturing techniques to reduce costs and ensure profits are sustainable. Additionally, should the EU lose its exemption, about $7.8 billion in U.S.-imported goods might face taxation.
China and Japan are two of the countries that are not exempt from these current tariffs, and it nearly launched a full-scale trade war between the United States and China as a result. That has been avoided for now, but the tariffs are still in place — and the two countries continue to go back-and-forth with updated lists of taxed items in response.
The Estimates: $10 Million and Climbing
Experts are estimating that these tariffs could cost U.S. based manufacturing companies more than $10 million over the next five years. This will impact companies across a variety of industries. Directly, it will affect companies that are using steel and aluminum to create their products, leading them to pass those costs on to their customers. Ford and GM, both U.S.-based car manufacturers, are expecting to have to pay more than $1 billion in extra tariff costs. On a broader scale, it will also impact the buying power of companies and consumers that rely on metal products to run their businesses or make their lives easier.
When it comes down to it, everyone is going to pay more, either directly or indirectly, because of these tariffs, and it doesn't look like they're going to be going away anytime soon.
The automotive industry may be getting some relief, though. Unofficially, word has come down the pipe that the president may be planning to scrap the 25 percent tariff that he was planning to implement on imported cars and car parts.
What Can Be Done to Adapt to the Tariffs?
If the tariffs aren't going away quickly, it's up to manufacturers to adjust to these new expenses. One option that is being explored in Europe and could be adapted in the United States is the idea of reusing waste heat to reduce other costs. The steel industry especially relies on generating a lot of heat, and much of it is wasted or directly released into the atmosphere.
Instead of letting this heat go to waste, it could be collected in heat pipes to be used to generate energy which could, in turn, lessen fuel costs and offset the increased cost of steel and aluminum.
For now, at least, these tariffs are here to stay, and they will continue to impact the manufacturing industry for the next year, and possibly even longer into the future. Companies will need to adapt to these new tariffs to be able to maintain their profit margins while preventing a substantial increase in their prices. Most of the previous import tariffs didn't last — President Bush's taxes were put into place in 2002 and only lasted until 2003, for example, so this may be just another thing that manufacturing companies need to ride out until the current tariffs have been lifted.
Continue the conversation by joining our DELMIA Communities on 3DSwYm. Membership is free.
Making an Impact at the Women in Manufacturing Annual Summit – Dassault Systèmes sponsorship helps to provide a platform for women to plan their manufacturing career success
A skills gap is on the horizon in the manufacturing industry—and women are a rich, under-utilized source of talented workers. Key to bridging the impending chasm is the ability for organizations to engage and promote women, an idea wholly supported by one of the industry's leading networking groups, Women in Manufacturing (WiM).
The work of influencers to effect positive change could be seen and experienced this month at the 8th Annual WiM Summit, where sponsors such as Dassault Systèmes helped to provide a platform to expand women's participation and influence in the industry. Held this year in Indianapolis, Indiana, the summit changes location every year, moving around the country to maximize participants' opportunities to develop a diverse and broad network in manufacturing.
According to Angela Regan, Dassault Systèmes' Global Director of Business Development for the DELMIA brand and chairperson of the Massachusetts chapter of WiM, the summit is a highly motivating experience that happens at the end of the summer, after a traditionally busy and exhausting season in manufacturing. "Women go to this event to get the wind beneath their wings. We get re-energized." Regan has seen firsthand how the workforce gap will affect the industry in the near future. "This is a critical issue. A significant amount of effort must be made in order to shore up and expand the pool of talent available to our industry."
Making an Impact
This year, one theme dominated at the summit: Making an Impact. From keynote presentations to breakout sessions and plant tours, presenters covered a broad spectrum of topics that spurred attendees to ask themselves: In what way do I want to make an impact in my career? How can I accomplish those goals?
Among the unique and practical ways to explore these questions were sessions on crisis management and how to recover from significant business interruptions and professional goal-setting. Ellen Van Ousten, a professor at Case Western University and instructor of the WiM leadership certification program considered the role of emotions and how to leverage them in leadership and life. Another session led by Betsy Berkhemer-Credaire, CEO, 2020 Women on Boards encouraged women to spur change by serving on corporate and non-profit boards where they have the power to make or influence decisions.
Dassault Systèmes' Sponsorship
Dassault Systèmes participated in this year's summit by providing transportation to and from the plant tours. Participants from the summit visited Praxair Surface Technologies, Major Tool & Machine, Fastenal Company, Crown Equipment, Rolls Royce and Salesforce.
As an MC for the break-out sessions, Regan introduced various speakers, including Cindy Bolt, Senior Vice President for Salesforce Industries, who leads a global industry strategy team for the Manufacturing, Automotive, and Energy sectors and discussed the important role that women play in the fourth industrial revolution. Other influential speakers included Molly Ford, Senior Director of Global Equality Programs at Salesforce, who inspired attendees with her recommendations for millennials looking to take on the world: first, do your job well and succeed, then people will listen to you.
WiM at Work
A frequent and enthusiastic attendee at WiM events, Regan reminisces about what she's learned through her participation with the organization over time—important ideas she needed to hear and learn in order to grow at different points in her career.
"When I was first asked to come to this event, I found myself sitting in a conference room listening to women who, in addition to being Dassault Systèmes' customers, quickly became incredible role models for me." Regan's relationship to WiM has grown to where she now participates on panels to inspire new recruits and works alongside members to promote each other's manufacturing careers.
At WiM events, Regan wears two hats, as a representative of Dassault Systèmes, and a promoter of Women in Manufacturing. "With my Dassault Systèmes hat on, I'm always interested in discovering where our customers are in implementing a digital journey for their organization. That said, the nature of WiM events—in which women are there to support each other in their careers—allows me to have a more bonded interaction with people who happen to be prospects or customers. We're all there to help each other. I'm there to create an ongoing relationship with a network of women I'll be connected with throughout my career."
Creating New Opportunities
In her role at Dassault Systèmes, Regan has created opportunities for WiM to share specific ideas and strategies for engaging women by leveraging and reaching out to the company's network of customers.
Through Regan's efforts, WiM President and founder Alison Grealis will speak at COExperience in New Orleans in 2019, an event created by an independent community group utilizing the Dassault Systèmes suite of solutions. Grealis will identify specific ways women can help to fill the skills gap in manufacturing for these active and engaged users and customers. Grealis will also serve on a panel to discuss women's roles in digital manufacturing at Dassault Systèmes' upcoming Digital Manufacturing Symposium. At both events, Grealis will have the opportunity to introduce her organization to the many Dassault Systèmes' customers in attendance, while showing how they can get women to take on important manufacturing roles at their own organizations.
Now that you've read about the platform and resources WiM provides, take a deeper dive by exploring the other articles in our series on Women in Manufacturing. Learn the perils of the coming skills gap and read a fascinating interview with Alison Grealis, President and Founder of WiM.
Continue the conversation by joining our DELMIA Communities on 3DSwYm. Membership is free.
Introducing AGVs on the Shop Floor? Here is What You Need to Keep in Mind (Part 2)
This is the second of a 2-part series on the implementation of AGVs on the shop floor.
Things to Consider When Planning the Introduction of an AGV System
What to Automate?
First, companies need to identify a candidate process to automate, the material flow paths within the process and the load to be transported automatically. A first estimation of employee relocation impacts, rationalization gains, quality improvements and improved work conditions can help decide which processes to target at this point.
What Kind of AGV?
The choice of the process and of the transported load will largely define the kind of AGV to select. There is no standard nomenclature for AGV types, but the most commonly cited ones are the following:
Forklift AGVs, to move and lift pallets both at floor level and on stands

Unit load AGVs, to retrieve and delivery pallets, boxes or containers, equipped with decks for load transportation and load transfer
Towing AGVs, to move trailers or trains of trailers within the factory
Assembly AGVs, to move work-in-progress parts to the assembly line, usually at a slow pace
Light load AGVs, to transport small parts or baskets, for example in hospitals
Which Navigation Technology?
AGVs need to continuously assess their position, which can be done in different ways. The choice of navigation technology not only depends on what AGV suppliers may propose, but also on the environment in which the AGVs will operate, and on the desired flexibility for changing AGV paths.
The laser guidance navigation technology is one of the most popular navigation methods today.  A rotating laser on top of the AGV emits a beam that is reflected by marks positioned on walls. The exact vehicle position is computed through triangulation.  This technology is flexible and highly accurate but is sensitive to dirt and sunlight.
Other technologies include:
Wire guidance: a current-carrying wire generates a magnetic field (low cost, reliable and robust, but not flexible and sensitive to metal in the ground)
Magnetic tape or grid guidance: a magnetic tape or magnetic spots are placed on the floor (low cost, flexible, but sensitive to dirt, sunlight, damages, and metal on the floor)
Optical guidance: a painted or taped line on the floor guides the AGV (low cost, flexible, but sensitive to dirt, sunlight and damage to the line)
Natural navigation: using a registered map of the facility and a camera or laser, the AGV identifies elements in the facility, such as pillars or walls, and computes its position according to them (highly flexible, does not require a specific infrastructure, but preferably used only in simple and constant environments, sensitive to sunlight)
GPS navigation: satellites are used to determine the position of the AGV (adapted to the outdoor environment, but low precision and cannot be used inside)
Which Charging Strategy?
AGVs operate on batteries and there are different options to manage charging:
Battery swap. When the battery level falls beneath a certain point, the AGV is redirected to a station where the battery is replaced by a fully charged one. The swap can be done manually or automatically. The advantage of a battery swap is that it limits the unavailability of the AGV to a minimum. The disadvantage is that extra batteries must be purchased and stored.
Automatic charging. When the battery level falls beneath a certain point, the AGV is redirected to a charging station. During charging time, the AGV is not available, which means that more AGVs are needed, for example, the battery can last during all day shifts and be charged at night.
Opportunity charging. The AGV is redirected to a charging station when an opportunity arises. This is a solution to consider if AGVs are stopped and idle several times a day.
IT Impacts
Unless AGVs simply move back and forth across predefined and independent paths, there is a need for a central management of the fleet of AGVs. All AGV vendors propose an AGV Control System, which is proprietary software allowing to:
Program vehicle routes, using a map of the facilities and of possible paths previously entered in the system
Fulfill transportation orders, by selecting an available AGV and ordering it to go from point A to point B using a given path
Monitor vehicle statuses and locations
Interact with other systems, such as ERP or Manufacturing Operations Management (MOM) Systems
Having a well-working AGV Control System also means addressing the IT challenges of a reliable wireless network and integrating with IT and OT Systems. Simulating the AGV fleet before its commissioning can also bring a lot of benefits.
Wireless LAN
Individual AGVs need to maintain constant communication with the AGV Control System through a wireless network, either to receive orders or send back field data.
The deployment of the wireless solution needs, therefore, to be carefully planned and tested. For instance, if antenna fields do not have sufficient overlap, this can result in the AGVs sometimes losing contact. The industrial environment may also cause interferences or other issues. For example, industrial metal surfaces such as those used in racks can cause a reflection of radio waves, preventing a well-functioning connection.
Integration with Other Systems
In order to fully automate transportation operations, the AGV System needs to communicate with other Systems, such as the ERP and MOM systems.
Transport orders need to be created and scheduled according to demand and capacity. The Warehouse Management System then needs to check the availability of the storage bins, communicate the location of the palette or goods to be transported and update the inventory after the transportation has been done. Integration with other components of the MOM system (Production, Quality) can allow a full traceability of the materials from receipt to final delivery.
AGV Fleet Simulation
Finally, a program that can simulate the operations of a future AGV fleet can prove useful to:
Verify that the AGV fleet has been properly sized,
Assess the efficiency of the routing and of the battery charging strategies,
Experiment "what if" scenarios with unexpected events, such as a human crossing the path of an AGV or several AGVs being down.
Conclusion
Cheaper and more accurate sensors, better vision recognition, quicker-charging batteries, intelligent collaboration within an AGV fleet… AGVs will benefit from all these advances in the future, making their usage even more compelling and their deployment easier. In the meantime, and as we have seen, companies need to evaluate the business case for AGVs, select an AGV type that can support all the required loads, make sure the environment is suitable for the AGV navigation system, implement a reliable WLAN infrastructure for AGVs and properly integrate other systems, such as MOM software, with the AGV Control System.
Continue the conversation by joining our DELMIA Communities on 3DSwYm. Membership is free.
Data Science: Making Sense of Digital Manufacturing
It's hard enough to understand any one thing, let alone the complex interactions between many things—each of which is constantly changing, through the other things acting on it.
That's the promise of data science, a mashup of computing, mathematics, statistical analysis, and good old-fashioned critical thinking. Its knack is to detect signals, structure, and patterns from data sets to advance learning and decision making in every field—from the study of the universe and human genome through medicine, engineering, the stock market… and manufacturing.
Data science is the latest iteration of technique in humankind's quest to get to the bottom of things. As such, it has emerged as one of the "Big Tools" of our 21st century world, alongside the Large Hadron Collider in physics and the Hubble Space Telescope in astronomy—tools that let us peer deep inside, or far away, to peel away the layers of the innermost workings of things.
Manufacturing has always been fiendishly complex, making it easy to throw up your hands in frustration at attempts to uncover root causes. Now, digitization has opened a window into its innumerable variables—by capturing the many data points that constitute any manufacturing process, from raw material provenance through production steps, work in process, yield rates, quality conformance, equipment effectiveness, and so forth, all the way through supply-chain planning and logistics.
That's where data science steps in, with its intimidating kit of tools: linear regression, density estimation, clustering, decision trees, nearest neighbors, scoring engine, and so on. You'll most likely not need to know much about them except this: these are the techniques that can decode the streaming, cellular composition of manufacturing, analyze connected elements and occurrences to make sense of what has happened—and is happening, and offer informed predictions of the probability of what is to come.
Data scientists are now integral parts of manufacturing teams. Glassdoor ranked the job number-one on its list of the 50 best jobs in America for 2018. The description of a data science course offered at UC Berkeley gives you a hint of what they know: "… will explore the data science lifecycle, including question formulation, data collection and cleaning, exploratory data analysis and visualization, statistical inference and prediction, and decision-making." The class focus includes "… languages for transforming, querying and analyzing data; algorithms for machine learning…; principles behind creating informative data visualizations; statistical concepts of measurement error and prediction…"
The applications of data science to digital manufacturing are limitless. Real-time understanding of operational processes enables higher throughput and rapid pivots. Analyzing shop-floor sensor data lets manufacturers make compensating tweaks when quality veers from tolerance. Customer sentiment can be graphed to customized design and production. Supply-chain forecasts and delivery decisions can be optimized down to the individual stockkeeping unit and location level.
Data science will power today's industrial renaissance. It is the "petri dish" of the experience economy, fostering in its culture a direct, flexible path from consumer want to manufactured fulfillment.
This post originally appeared on Navigate the Future, the Dassault Systemes North America blog
Continue the conversation by joining our DELMIA Communities on 3DSwYm. Membership is free.24
Is Your Planning Integrated?
Most manufacturers take advantage of planning software (MRP and its variants) to set production schedules and lay out replenishment requirements for inventory. Most companies also engage in a formal business planning process to set strategic objectives, plan cash flow and financial requirements, allocate funds to major business functions, plan capital expenditures, etc. But are these processes tied together into one integrated planning approach?
General Dwight D. Eisenhower was known to have said "Plans are useless but planning is essential" to acknowledge that the real world seldom behaves as we expect, but we must plan nevertheless. The end result of the planning process is a set of actions and goals that guide activities. In the case of manufacturing plans, the planning process lays out manufacturing and purchasing activities (orders) that must be carried out at the specified times in order to have products to meet demand, avoid shortages, minimize excess inventory, and best use the resources available. In other words, the planning process provides instructions that tell operations what to do to support the ultimate objective of satisfying customer demand.
The real question is whether that objective is properly in tune with the business objectives – sales expectations, profit targets, market share, etc.
For most companies these days, the key planning process comes together in Sales and Operations Plan or S&OP. APICS describes planning in general as a top-down process that starts with the business plan that sets long-term targets for sales, profit, etc. at a high level. That business plan is broken down into successively more detailed views thusly:
Business plan: high level and long term e.g., total sales, margin, share, etc.
S&OP: intermediate to long term (typically 18-24 months) for product families or groups
Master Schedule: Intermediate term (6 to 18 months) for individual products
Material Requirements Planning: (up to 12 months) for all products, assemblies, materials and components
Execution – production and purchasing are activities carried out to support the plan
This, of course, is a highly simplified view but makes the point that the detailed plan must be driven from the overall business objectives in a top-down manner. Only in this way can the individual activities accomplished day-to-day be tied directly to what the company is trying to achieve. If whatever you're doing is not according to the plan, it's not generating value for the company. Note that the ultimate achievement of corporate objectives is inescapably tied to meeting customer demands. After all, they are the ones buying the products that put the money into company coffers that keeps the lights on. The top-down planning process translates corporate objectives into customer/product plans – supply and demand are matched in the S&OP step – which are then translated into specific actions for individual departments, functions and employees. The plan keeps everyone working toward the common goals.
This post originally appeared on Navigate the Future, the Dassault Systemes North America blog
Continue the conversation by joining our DELMIA Communities on 3DSwYm. Membership is free.
An Interview with Allison Grealis, President of Women in Manufacturing (WiM)
In the second of our 3-part series, we explore how manufacturing companies resolve obstacles to workforce attraction, retention and advancement in a fascinating interview with Allison Grealis, president of Women in Manufacturing (WiM). WiM is a national trade organization with over 1,500 members actively working in manufacturing industries and focused on supporting, promoting and inspiring women in the manufacturing sector.
RB:       Why is there a need for a women-specific trade organization in manufacturing?
AG:      A WiM member explained the value of WiM this way: "Sometimes you just need a sounding board and the comfort of knowing that you're not alone."
Right now, women make up about 29% of the manufacturing workforce. WiM meets an important need to bring women together, across companies and sectors, to share best practices and strategies for success in manufacturing.
We've been doing this work for eight years. Back then, WiM was a little networking group with a handful of participants. Today, WiM is a national trade association with over 1,500 members. Our rapid growth is a reflection of the growing recognition that diversity in the workforce is important. Bringing women together to focus on career advancement is an important part of the ongoing change we want to see in our industry.
RB:       What are the key components of a gender-balanced manufacturing organization? What benefits can we expect to see by removing obstacles that prevent women from seeking careers in manufacturing?
AG:      It's important to note that not only is manufacturing good for women, but women are also good for manufacturing. The benefits to bringing more women into manufacturing are numerous, but here are two practical ones: First, as we all know, manufacturing has a significant skills gap. To fill it, we need to look at more than 50% of the population. Women must be recruited in every role to address our industry's need. Secondly, when there are more women in manufacturing companies and taking on leadership roles, we will see manufacturing companies grow and our industry as a whole thrive. Research tells us that when companies are more diverse, and when there are more women at the leadership table, those companies are more profitable.
Achieving gender balance for most manufacturing companies is a long-term goal. But companies who want to retain and promote women into leadership roles should implement strategies like (1) Taking steps to keep the work interesting and challenging; (2) Supporting flexible work schedules; (3) Providing opportunities for professional development and educational and training programs; and (4) Identifying and enhancing the visibility of leaders.
RB:       Your membership is made of up women actively working in the manufacturing sector. Can you tell us why female mentorship is particularly important in manufacturing? Does WiM provide outreach?
AG:      Mentorship is important in all fields, but mentors can be especially valuable in workplaces and careers where it can be a challenge to find similarly situated role models. As it has been often said, "It is difficult to be what you can't see."
WiM offers extensive networking opportunities to help women at all levels and locations connect with each other, find mentors, and build the networks they'll need for success. We host a range of professional programming events at the national level as do our 16 local chapters across the country. And we have a robust membership directory online so that our members can find each other and make connections.
RB:       How do you envision support from Dassault Systèmes and other corporate sponsors toward achieving WiM's mission?
AG:      The support of Corporate WiM Members is vital to providing the opportunities and programming that our members enjoy. At the same time, Corporate Members like Dassault Systèmes can and should connect their women employees with WiM's resources in order to better their skills and strengthen their networks. For example, WiM operates a number of leadership development programs from a virtual learning series to immersive training courses. These programs can help support the next generation of women leaders, something that benefits our Corporate Members and our industry as a whole.
RB:       Manufacturing industries such as aerospace, automotive, defense and industrial products have not been very successful at attracting and keeping female workers. What could manufacturing learn from Life Sciences and other industries that have achieved better outcomes in recruiting and retention?
AG:      While it's true that there is lots of work to do to recruit and retain women in industry careers, we are seeing signs of progress. You mentioned automotive and defense. Right now, GM has a woman CEO and CFO. And, at the start of 2019, four of the top five defense companies in the U.S. will be led by women. Of course, these case studies in success do not mean that our work is done, but they do show that traditionally male-dominated industries are capable of change. There is a lot of reason for optimism. WiM is focused on building on the change we're seeing to help companies retain and advance women and help women thrive in manufacturing careers.
RB:       Thank you for sharing your insights, and your time.
Now that you've read this insightful interview with Allison Grealis, take a deeper dive by reading about the coming skills gap in manufacturing, as well as a recap of the exciting events at the 8th Annual WiM Summit.
Continue the conversation by joining our DELMIA Communities on 3DSwYm. Membership is free.
Introducing AGVs on the Shop Floor? Here is What You Need to Keep in Mind (Part 1)
This is the first of a 2-part series on the implementation of AGVs on the shop floor.
Automated Guided Vehicles (AGVs) have been around in factories as early as the 1950s, where a "driverless vehicle" manufactured by Barrett Electronics, in Illinois, could follow the electromagnetic field of a wire located in the factory ceiling or, later on, embedded in the floor[1].
However, since the acquisition of AGV manufacturer Kiva Systems by Amazon in 2012 and Amazon's decision to stop sales and use Kiva robots exclusively to improve their logistics, there has been a surge of interest for industrial AGVs. According to a 2017 article from a Loup Ventures analyst, the AGV market could be by 2025 "one of the fastest growing sub-markets within the entire robotics space", with a Compound Annual Growth Rate of 35% for the 2015-2025 decade.
In this article, we will see what drives companies to use AGVs in their facilities, what needs to be considered when choosing an AGV System (involving a fleet of AGVs) and finally what are the impacts in terms of IT systems.
Why Use AGVs?
Today, industrial AGVs are mainly used for material handling within a warehouse or factory or sometimes outdoors. Some typical usages include:
Transporting received materials to storage areas
Supporting kitting operations and just-in-time deliveries
Delivering work-in-progress parts to manufacturing production lines
Transporting finished goods to shipping areas
So transportation is the key function. In spite of recent advances in computer vision, object recognition and robot grasping techniques, humans are still usually needed to pick and place individual parts, while pallets are typically transported by AGVs.
An AGV System may bring different benefits listed below.
Safety
According to a 2016 regulatory notice from the Occupational Health and Safety Administration (OSHA), forklift accidents result in roughly 85 fatalities and  34,900 serious injuries every year in the United States. When truck manufacturer Scania considered using AGVs for material handling in their production areas, a key objective was to help achieve a forklift-free production, since forklifts were regarded as "one of the most dangerous work equipment at Scania"[2].
Forklift AGVs are the most common type of AGVs and look pretty much like regular forklifts. Some models also have space for humans, allowing to steer the AGV manually when needed. Like all AGVs, they include sensors that ensure that the vehicle slows down or stops when encountering a human or an obstacle. They operate at a controlled, limited speed, accelerate smoothly and have a predictable behavior, thereby limiting accidents[3].
Damage Reduction
Forklift drivers may be distracted, tired or simply have a bad day. As a result, they may damage products or hit equipment and structures. AGVs of course are more reliable and can work 24 hours a day. Following the introduction of AGVs, Valio, a Finnish producer of dairy products, has managed to reduce damage to vehicles, stock and site by 90% in one of its cheese factories.
Cost Reduction and Better Operations
In a Lean Manufacturing perspective, AGVs reduce transportation time, which is non-value added time in manufacturing operations.
If AGVs replace fixed automation systems such as conveyors, they can reduce costs thanks to quicker implementation, staged investment and additional flexibility.
If AGVs replace or relocate employees, they can allow to reduce labor costs and increase productivity. After automating transport routes using a mix of conveyors and AGVs, AMAG Automobil, a car importer and dealer, has optimized its production throughput time by 20 to 30%.
An AGV System also leads to a more regular flow of material, with clean shop floors making room for AGV navigation paths. It can also bring improved inventory accuracy if properly connected to a Warehouse Management System.
Summary
In this article we have addressed several benefits of AGVs including safety and cost reductions. Part 2 of this article will list some key considerations when planning for an AGV system.
Continue the conversation by joining our DELMIA Communities on 3DSwYm. Membership is free.
[1] The No-Hands train, a 1958 implementation of Barrett Electronics' invention in a refinery
[2] A State of the Art Map of the AGVS Technology and a Guideline for How and Where to Use It, thesis from Lund University Faculty of Engineering for Scania, 2017
[3] As of August 13, 2018, a Google search of "accident report detail" along with the terms "AGV" or "automated guided vehicle", and restricted to the OSHA Web site, provided two OSHA fatality reports, dating back from 1997 and 2008. By contrast, a similar search with the term "forklift" resulted in 493 OSHA fatality reports.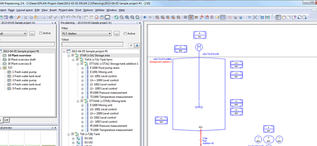 Innsamle, evaluere, administrere spesifikasjonsdata
Eplan Preplanning fokuserer på grunnleggende ingeniørarbeid - den kommende planleggingsfasen før klassisk detaljert ingeniørarbeid. Prosjektdata kan overføres inn i Eplan-plattformen tidlig i prosessen uten uregelmessigheter. Her kan data forbedres videre, administreres og behandles.
les mer...